Why You Should Use an Online Wedding Seating Chart Maker
Whether you're organizing a private celebration or planning seating arrangements for a wedding, a seating chart template is valuable. However, consider using an online seating chart maker instead of relying on traditional methods.
These platforms offer numerous benefits that streamline your organization process without the hassle of paper and the fear of errors. Making changes is as easy as a keystroke.
Main advantages
Several online seating chart platforms are available. Here's an overview of what these sites have to offer:
Layouts. Most online seating chart makers provide customizable layouts with squares, grids, and chair graphics. You can import data and sort and rearrange seats using a simple drag-and-drop wedding seating chart board interface.
Flexibility. Certain chart makers allow the creation of seating charts for up to 100 people. You can arrange guests with unlimited groupings and the option to upload photos.
Wedding planning features. Some sites are specifically designed for wedding planning. They enable brides to import guest lists and visualize the event space, often offering features like 3D floor plans. Event professionals and wedding planners rely on these sites for efficient seating arrangements.
Advanced features. Wedding-based seating chart organizers may also track meal types RSVPs and provide mobile check-in on the wedding day. Some advanced sites require registration and payment based on the level of involvement.
Venue customization. Certain seating chart sites allow you to create interactive charts based on your venue's dimensions. Drag and drop tables, choose between square or round shapes, and add guest names.
Mobile applications. Some online seating chart sites offer user-friendly mobile apps and desktop platforms. These apps let you input guest names, make changes, and share plans with venues or relatives on the go.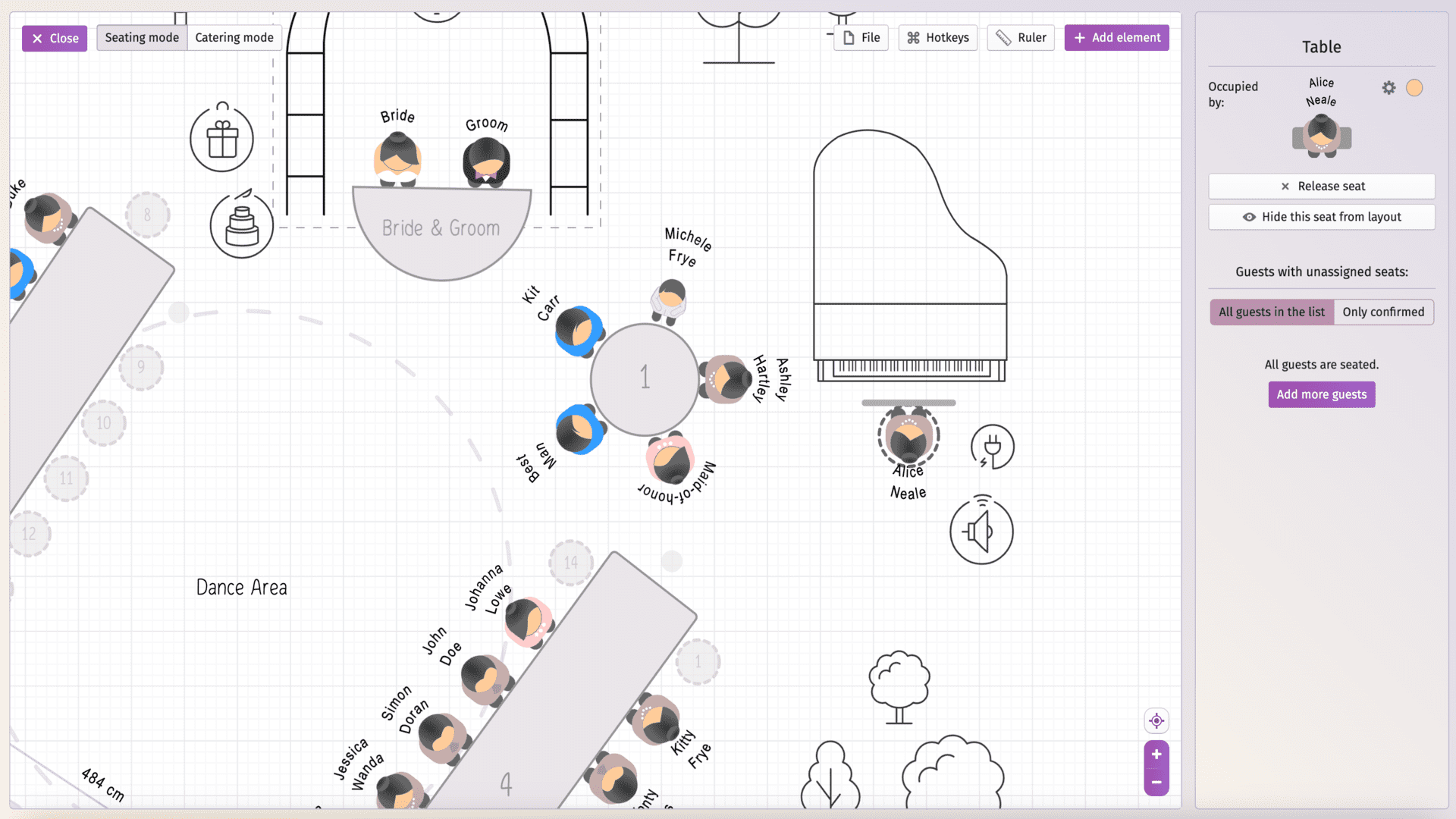 Suggestions for Use
It would help to use online seating charts, especially those accommodating multiple weddings. Brides will appreciate the wide range of options these sites offer, from easily inputting guest lists to creating table assignments. Wedding and event professionals find seating chart sites specifically designed for wedding planning useful due to their higher-tech features.
Even brides can benefit from visualizing their unique venue using these seating charts. With mobile apps, you can make changes on the go, even during your daily commute.
In conclusion, online seating chart makers are an incredible tool that simplifies arranging seating at events, particularly weddings. They offer customizable layouts, flexibility in guest management, unique wedding planning features, advanced options, and mobile accessibility.
Utilizing these digital platforms allows you to seamlessly manage your seating arrangements, reduce stress, and focus more on enjoying your special day. Whether you're a bride, an event professional, or someone planning a small gathering, an online seating chart maker is a valuable asset for efficient and hassle-free planning.